PINO MIRAGLIA

Biography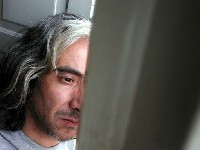 Pino Miraglia was born in 1961 in Naples, where he lives and works.
He devoleped in the Eighties, in the context of the experimental theatre and puppetry, as an actor and light technician. In the Nineties, he starst focusing on image and visual communication, as a photographer and director.
In 2000 he founds camerachiaraimage in Naples, a promotion and diffusion project for author's photography and image. With Camerachiaraimage he creates many photographic projects related to social issues and music (Immaginapoli, Corpi Musicali, Uguali-Diversi, 10 Fotografi per la pace, Gli occhi della musica, Jazz to Jazz, et cetera).
He is art director for many cultural, editorial and musical projects.
During his activity, he has been holding and still holds many workshops and courses on photography and text dramatisation with non-verbal communication.
He is set photographer for theatre and music events (Una Provincia in Jazz, Ethnos, One Love peace for kids, Teatri della legalità, Divino Jazz...)
He reports, as a photographer, many Neapolitan events related to show business, culture and social issues.