ROBERTO SIMONI

Biografia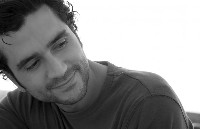 La ricerca sulla percezione con la fotografia artistica di Roberto Simoni diventa chiara quando il suo concetto non si relaziona ad una fotografia documento o situativa. Le opere di Roberto Simoni vanno oltre il soggetto rappresentato e riflettono una intima presa di posizione. Ogni immagine dimostra che non bisogna fidarsi della fotografia per essere comunque attratti da una profondità di uno spazio visivo. Siamo affascinati ed il nostro sguardo e' incuriosito dalle sue idee, siamo spinti nel voler credere ai nostri occhi.
Curriculum
1972. Born in Salerno, Italy.
1991. Diploma in graphics and applied arts, Salerno.
1993. Studies of science of communications, Salerno.
1993. Assistant photographer in Munich.
1995. Freelance photographer for advertising and publishing.
2003. Starting art photography.
Mostre
2011. Artefiera, Bologna, Italy
2010. Equilibrium (group) Ars Agenda, Munich.
2009. Ehrliche Haut (group) Pasinger Fabrik, Munich.
2009. Natura Violenza Mito (solo) Galleria Overfoto, Napoli.
2009. Crooma Gallery (group) Munich.
2008. Roberto Simoni 2004-2008 (solo) Ars Agenda, Munich.
2008. OPENING (group) Ars Agenda, Munich.
2008. The Carlyle Group (solo) Munich.
2007. Eyed, Literatur Moths (solo) Munich.
2004 Looking and Thinking (group) Tongji University, Shanghai.